Event Announcements for 2018
The 2018 event has a number of special supporters and ambassadors rallying together
to support the Queenscliff180 Family Swim
Step Up to the Microphone Media -
Wes Cusworth
0417 302 067
microphonemedia@yahoo.com.au
Sports journalist and presenter of five separate news bulletins across regional Victoria (Western Victoria, Bendigo, Gippsland, Albury and the Goulburn Valley) on a weeknightly basis.
Producer and presenter of the 'Worksafe Country Football and Netball Report'.
Artwork created on IPAD by Ralph Guice, Eltham Victoria.
Graphic Design by Duro Cubrilo
Our wonderful event starter
This charming fellow needs no introduction, #MattPreston will be our official event starter for the 26th Queenscliff180 Family Swim. Matt is certainly looking forward to seeing bigger-than-ever crowds at Queenscliff beach on the 27th January 2018; supporting both Parkinsons Disease Research and Youth Homelessness.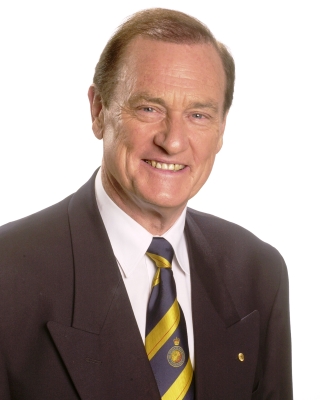 THE OFFICIAL VOICE OF THE SWIM
It is with pleasure that we welcome our official "voice" for the 26th @queenscliff180swim. The nostalgic Pete Smith 'lady's and gentlemen' is joining us as the official announcer. Our finish line MC / presenter is yet to be announced. What a wonderful addition to the festivities. Thank you Pete
Dr Peter Doherty(AC, FRS, FMedSci)
Guest Speaker
Dr Peter Doherty, (AC, FRS, FMedSci) will be our guest speaker at the 26th Queenscliff180 Family Swim about his work in medicine and the importance of medical research in Australia.
Dr Peter Doherty (in collaboration with Rolf Zinkernagel) received The Nobel Prize in Physiology or Medicine 1996 "for their discoveries concerning the specificity of the cell mediated immune defence". Peter's conceptually-driven research revolutionised the field of immunology by explaining the mechanism of T-cell recognition in cell-mediated immunity: the discovery that T-cells recognise "altered self", a complex of MHC (transplant) protein and foreign antigen on the surface of virally infected cells.
Peter holds honorary doctorates from 19 universities and has been recognised as Australian of the Year in 1997
Peter has published over 330 scientific papers together with more than 110 solicited reviews, book chapters and commentaries.
What a delight it is to welcome Peter as our ambassador for medical science (the recipient of 50% of our events proceeds).
*CITATION FOR THE AWARD OF DOCTOR OF LAWS (HONORIS CAUSA)